The Research Colloquium is organized jointly by the ScienceCampus and Graduate School for East and Southeast European Studies in Regensburg.
Details of past events in this series are outlined below. Thank you to all the speakers and all of you who joined us, contributing to lively discussions.
The program for summer semester 2021 is ready and we are looking forward to collaborating with the Graduate School again. The discussions will cover a range of themes, from the way the field of area studies was shaped through the Cold War and transatlantic contacts to the workings of émigré goverments.
Thu, 17 June, 16:15 | Florian Töpfl (Universität Passau)
Die Mehrzahl aktueller sozialwissenschaftlicher Studien zu nicht-demokratischen Mediensystemen geht davon aus, dass autoritär regierende Eliten durchwegs darauf abzielen, öffentliche Kritik mittels eines breiten Spektrums an repressiven Maßnahmen zu "zensieren" oder zu "kontrollieren". Im Gegensatz hierzu argumentiert dieser Vortrag, dass kritische Teilöffentlichkeiten in autoritären Staaten auch als "Input Institutionen" begriffen werden können, die für autoritäre Eliten nicht nur Risiken bergen sondern auch wichtige Aufgaben erfüllen. Nach einer Vorstellung dieser neuen "Theorie autoritärer Öffentlichkeit" wird deren Anwendung anhand ausgewählter eigener empirischen Studien aus der postsowjetischen Region illustriert.
Florian Töpfl ist Inhaber des Lehrstuhl für Politische Kommunikation mit Schwerpunkt auf Osteuropa und die postsowjetische Region an der Universität Passau. In seinen aktuellen Forschungsarbeiten untersucht er den informationellen Einfluss russischer Eliten auf ausländische Medienpublika. In früheren Projekten beschäftigte er sich mit den Beziehungen zwischen neuen Medien und Politik in nicht-demokratischen Regimen, wobei der geographische Fokus hierbei auf Russland und der postsowjetischen Region lag.
Via ZOOM (Meeting-ID: 619 3237 0312)
Thu, 1 July, 16:15 | Sabelo J. Ndlovu-Gatsheni (Bayreuth)
The Cognitive Empire and Coloniality of Knowledge in Africa
Can knowledge be colonized? How is knowledge colonized? How do we decolonize knowledge? These three questions cannot be clearly responded to without an understanding of the cognitive empire. This is an empire that enables coloniality of knowledge. Therefore, this lecture delves into the politics of knowledge with a focus on introduction of the concept of the cognitive empire, articulation of its operative logics and its consequences. This takes us to the present global economy of knowledge and how Africa has been fighting for decolonization of knowledge. So, the lecture delves into what is decolonization and how it can be done in the present conjuncture, where there is turmoil within the republic of letters and the world of knowledge.
Sabelo J. Ndlovu-Gatsheni is Professor and Chair of Epistemologies of the Global South with Emphasis on Africa at the University of Bayreuth in Germany. He is a leading decolonial theorist with over a hundred publications in the fields of African history, African politics, African development and decolonial theory.
via Zoom (Meeting-ID: 685 7276 9188), Kenncode: 347481
15 April 2021 | 16:15
Negotiating Non-Territorial Citizenship: The Polish Consulate in Harbin during the Second World War
Kathryn Ciancia (Madison)
After the territory of Poland was divided between the Soviet Union and Nazi Germany in September 1939, a government-in-exile resumed the tasks of granting, removing, and revoking Polish citizenship in its consulates across the world. In this talk, I will reconstruct some of the cases filed by men and women at the Polish consulate in the historically Russian and Chinese city of Harbin, then under Japanese occupation, and trace the responses from local and central officials. By following the trajectories of both Jewish and Catholic applicants, the talk will explore how the criteria for citizenship intersected with ongoing questions of what it meant to be Polish, even in the absence of a territorial state.
Kathryn Ciancia is a historian of modern Eastern Europe and associate professor of history at the University of Wisconsin-Madison with a research focus on Poland in the first half of the twentieth century.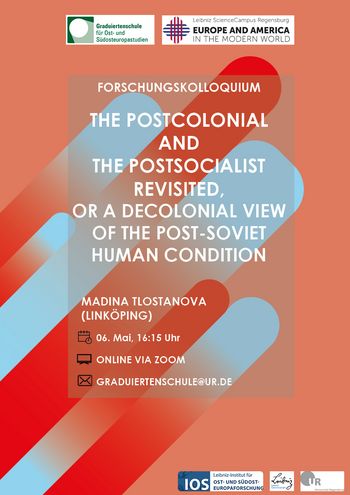 6 May, 16:15
The Postcolonial and the Postsocialist Revisited, or A decolonial view of the post-soviet human condition
Madina Tlostanova (Linköping/Sweden)
Many works have been written on various specific intersections of the postcolonial and the postsocialist as temporalities, sensibilities and analytical lenses. A decolonial view offers additional angles to the picture introducing categories of the imperial difference, modernity/coloniality, the geopolitics and corpopolitics of knowledge, etc. and allows to shift the discussion from the description of the specific regional histories to postcolonialism and postsocialism as current global predicaments and also potentially, as a dialogical space for the emergence of "deep coalitions" (Lugones) and global alliances for refuturing. In the talk I will focus on some decolonial impulses in the post-Soviet/post-colonial spaces and subjectivites in arts and social movements.
Madina Tlostanova is professor of postcolonial feminisms at Linköping University (Sweden). Her interests focus on decolonial thought, indigenous feminisms and feminisms of the Global South, the postsoviet/postcolonial human condition, fiction and art.